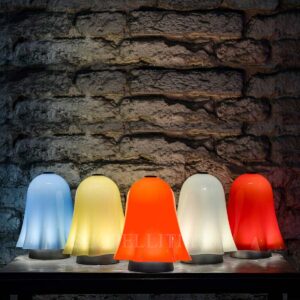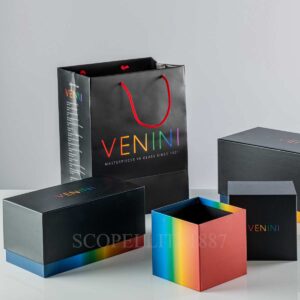 Venini Portable Lamp Fantasmino Milk White 847.60 New
Enjoy 15 % OFF on all VENINI vases!
Venini Portable Lamp Fantasmino in Milk White Murano Glass with a gift box. New Collection 2023.
Available on back-order
Shipping time: approx. 1-2 months
view all "same day shipping" products
Venini Portable Lamp Fantasmino Milk White
VENINI's most recently launched product, the rechargeable Fantasmino LED lamp, has been an instant hit.
The skilful processing of the glass gives the lamp a delicate sense of movement, as if it was suspended in air, while its iconic profile, originating from an exclusive prototype from the company's archives, adds a playful touch to living ambiances.
The special relationship between light and matter that has always been the hallmark of VENINI glassware return in this line of table and floor lamps that bring the Opalino technique of the 15th century back to life.
The silhouette of Fantasmino lamp is reminiscent of VENINI's iconic Fazzoletto vase, designed in 1948, but is given a contemporary twist by its portable use.
Venini portable lamp is available in five trendy colours: Red, Orange, Amber, Aquamarine and Milk White, all in Opalino glass. These playful lamps will add a touch allure to the home.
Venini Lamp Fantasmino characteristics:
Brand: Venini
Model: Opalino Milk White Portable Lamp
Material: Mouthblown Murano Glass
Size: Ø 16 x H 18 cm (6.3″ – 7″)
Weight: Kg: ~ 1 (Lb ~ 2,2)
Rechargeable Batteries
1 x max 1,5 W LED 5V – Dimmer
Finishing: Burnished metal
Wipe clean with soft dry cloth.
Made in Italy.
Gift box included.
Venini portable lamp Fantasmino is part of the Architetture di Luce (Architectures of Light) Collection, which features lamps and chandeliers designed to shed light both when switched on and off. For this reason they are suitable for embellishing any environment, especially the interior of a modern home or office. This is a fun and colorful proposal and can be transported thanks to the innovative lighting solution with rechargeable batteries.
Venini Lighting
Venini lighting is the innovation of the greatest designers of all time.
New shapes and creations. No excess. Just glass and light, at the heart of experimental art by the greatest artists of all time. Discover all collection!