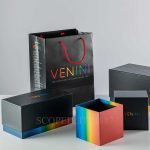 Venini Clessidre Hourglass 420.06 grape/light pink
$ 880,92
Venini Clessidre Hourglass Murano Glass 420.06 grape/light pink gift-wrapped
1 pc – Ø 10 cm, h 25 cm (3.93″D – 9.84″H)
Handmade and blown glass.
A colourful take on the traditional hourglass, this piece was designed by Paolo Venini in 1957.
Available on backorder
approx. 1 - 4 weeks delivery time

Discover our current promotions - Ask Danka

+39 391.345.6441
The store is currently closed, Danka will answer your queries within the next 12 hours.
Handmade with Murano glass, the 'Clessidre' consists of two parts — grape and red — blown separately and fused together with a Venetian glassblowing technique known as incalmo.
Incalmo is a very difficult technique which consists of melting together two blown forms to obtain a single, composite piece, usually with parts of different colours.