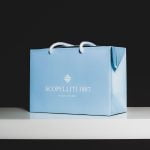 Tatiana Fabergé Tamara green necklace TMP01RGR
$ 274,53
Tatiana Fabergé Tamara sterling silver rose gold plated necklace with green pendant. Gift box included.
Material: Sterling silver gold plated and green fired enamel with natural zircons.
Pendant size: 22 mm, chain length 45 cm
The designs, in gold plated 925 silver sterling and the striking enamelled colourings, feature a spray of wild flowers with petals of tinted violet, blue, rose and green arranged around shimmering zircon centres which adds a fresh and young touch to the collection.
Available on backorder
approx. 3 - 5 days delivery time

Discover our current promotions - Ask Danka

+39 391.345.6441
The store is currently closed, Danka will answer your queries within the next 12 hours.