Tatiana Fabergé N°9 Sterling silver Egg Locket necklace light blue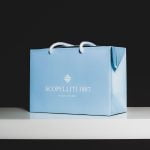 Tatiana Fabergé N°9 Sterling silver Egg Locket necklace light blue
$ 373,56
Tatiana Fabergé N°9 sterling silver necklace featuring egg shaped pendant locket encrusted with 240 natural zircons. Gift box included.
Chain length 80 cm
In keeping with the fondness for surprise the locket conceals a hidden delight for those who receive it as a gift. Your message will be printed in elegant parchment paper and placed inside the egg pendant.
Same day delivery
Same day delivery

Discover our current promotions - Ask Danka

+39 391.345.6441
The store is currently closed, Danka will answer your queries within the next 12 hours.