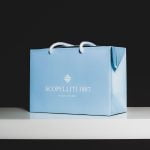 Tatiana Fabergé Emperor black Egg Necklace P63006-BG
$ 333,53
Tatiana Fabergé "Emperor collection" egg shaped pendant featuring a sterling silver gold plated necklace. Gift box included.
Material: Sterling silver gold plated and fired enamel encrusted with natural zircons
Egg pendant size: 22 mm
Black pendant with golden motifs embellished with luminous zircons; the choice of yellow and black indicates a personality with extremist attitudes but very true and consistent with its ideas.
Available on backorder
approx. 1 - 2 weeks delivery time

Discover our current promotions - Ask Danka

+39 391.345.6441
The store is currently closed, Danka will answer your queries within the next 12 hours.
The Emperor Collection is the perfect union between the classic of the ancient times and the charm of modern influences. The jewelled egg pendants, in perfect compliance with the Fabergé artistic tradition, are marked by stylish elements where the smallest details are taken care of.