Combining the perfect shape with perfect functionality, that's the mastery of design which creates timeless masterpieces. The Pininfarina Segno project is all this: going beyond limits to reach a new universe, through research and selection of precious materials.
One of a kind
The Codex project takes inspiration from the "Cryptex", invented by Dan Brown in his bestseller "The Da Vinci Code" and attributed by the writer to Leonardo da Vinci. The name Cryptex, born from the union of "cryptology" and "codex", is an imaginary device that inside the book conceals informations, reachable by guessing the correct sequence of letters among those present on the rotating disks, just as for the Codex.
Inside the Codex you'll find included a Pininfarina Cambiano Stylus with Ethergraf® tip.
The Limited Edition Codex has been produced in limited numbers, of the 500 made this particular one is number 413th, which makes this object truly one of a kind.
The Codex is a great gift for an someone who is passionate about Leonardo Da Vinci or someone who's passionate about engineering, art, history, etc…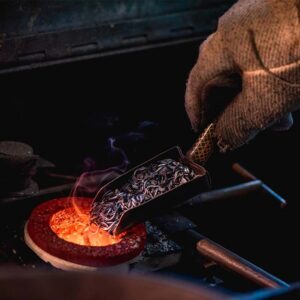 Technology
The ETHERGRAF® tip "scratches" the paper at the microscopic level, oxidizing it and thus leaving a light but precise mark. Thanks to its porosity, common paper perfectly reacts to the passage of the metal tip.
You can have one thousand pens, but amongst all of those, the ethergraf styluses of Pininfarina will be the ones to attract the attention of people with true class.
That's why these styluses transform themselves into the perfect design accessory for those who always like having a story to tell.