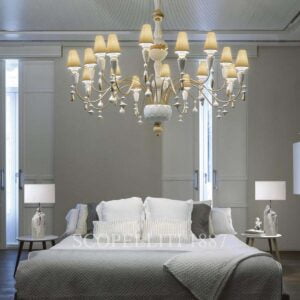 Lladró Set of 2 Bedside Lamps Meditating Woman
1.000,00€
Use coupon code: EMOTIONS to get an additional 3% OFF
LLADRO MEDITATING WOMAN LAMP I and LLADRO MEDITATING WOMAN LAMP II porcelain figurines with gift boxes.
Sculptor: José Luis Santes, Release year 2010.
Individual Size: 57 x 30 cm
This lovely set of white porcelain Meditating Woman Lamp bases with its essential modern rectangular shade shows a woman in thought looking out onto the horizon with her chin resting on her hand. The thick folds of her long dress are wonderfully sculpted to cover the side of the coarse base in contrast with linearity of her delicate facial features and her flowing long straight hair. The shape and pose of the female figure recalls a mermaid resting on a rock gazing out at her loving natural habitat: the sea. A stunning centre piece which will enrich any Home.
Available on back-order
approx. 1-2 weeks delivery time. If you need same day shipping, please check here.

Discover our current promotions - Ask Danka

+39 391.345.6441
The bedroom decor in a modernly designed home has gone through some major changes in this past years. Italian interior designers now, more than ever, recommend to adorn the room with bedside lamps that are not identical but instead that complement each other. This fashion has come to the surface as the need of the people to express their individuality making their side of the bed more in tune with their inner selves, while preserving the tone of the bedroom decor.