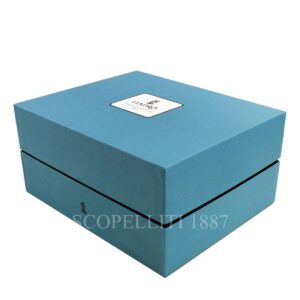 Lladró Little Monkey Figurine Blue Gold Limited Edition
€ 630,00
Limited edition only 500 pieces
Lladró Little Monkey Figurine Blue Gold Limited Edition in matte porcelain from the Boldblue collection is decorated with bright tones and a touch of golden luster. Gift box included. Sculptor: Virginia González Size: Height 23 cm, Width 17 cm, Length 17 cm
Available on back-order
approx. 1 - 4 weeks delivery time

Discover our current promotions - Ask Danka

+39 391.345.6441
The Boldblue collection, conforming its own dreamlike animal kingdom, is now further expanded with the addition of Little Monkey. The creations in this successful series are the perfect match between realism and imagination. The perfectly executed forms of the animals are coupled with a striking bicolor decoration combining the signature electric blue color made famous by the artist Yves Klein in the 1950s with touches of golden luster.
You may also like…
Lladró

€

470,00

Use coupon LLADRO15 to have 15 % discount

LLADRO GALLOP I figurine with gift box.
Sculptor: Alfredo Lorens, Release year 2003.
Size: 17 x 24 cm

This pure white matt porcelain sculpture of a stunning stallion in a mid-gallop is a beautiful classic sculpture which is guaranteed to look wonderful within your home.
The audacious and fiery horse with its flowing main and tail seems to be running towards the limitless horizon with its strained muscles cutting through the air.
Perfect for horse lovers and someone who appreciates beautiful figurines and is afraid of nothing in his quest to overcome all obstacles.