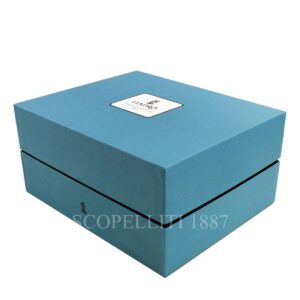 Lladró Koi Figurine Blue Limited edition New
850,00€
Use coupon code: EMOTIONS to get 20% OFF
Limited edition 750 pieces.
Lladró Porcelain creation combining the detailed, realist execution of the Koi with a bold decorative treatment in blue and gold.
Size: 31 cm * 21 cm * 24 cm
Exclusive breakage insurance included. FREE Worldwide Shipping
Available on back-order
approx. 1-2 weeks delivery time. If you need same day shipping, please check here.
Your porcelain figurine will be wrapped especially without any additional cost and you can also include a personalized gift note.
A new addition to the Boldblue collection, featuring a koi, a highly appreciated decorative fish and a symbol of good luck, patience and long life. Notable for its movement and the energy it conveys, this piece has an extraordinary decorative quality thanks to its original decoration, inspired by Klein Blue, the color patented by the famous contemporary artist Yves Klein, further enhanced by a contrast with golden elements. Made in matte porcelain and decorate in intense satin-finish blue with details in gold.
You may also like…
Lladró 550,00

€

Use coupon code: EMOTIONS to get 20% OFF

LLADRO GALLOP I figurine with gift box.
Sculptor: Alfredo Lorens, Release year 2003.
Size: 17 x 24 cm