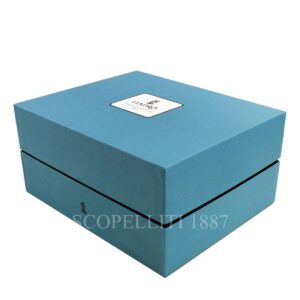 Lladró Gift Set The Guest by Henn Kim
€ 3.200,00
Use coupon LLADRO15 to have 15 % discount
Lladró Gift Set The Guest by Henn Kim in gloss porcelain. Gift box included.
This gift set consists of The Guest by Henn Kim big model in limited edition and small model in numbered edition.
Designer: Henn Kim
Sculptor: Raul Rubio
Size: Height 52 cm, Width 19 cm, Length 19 cm
Available on back-order
approx. 1 - 4 weeks delivery time

Discover our current promotions - Ask Danka

+39 391.345.6441
The porcelain figurines of this charismatic character, created by the celebrated designer Jaime Hayon, now arrive in a version by the Korean illustrator Henn Kim, an artist who submerges us in a personal world of visual metaphors and poetry, in black and white.
The Guest by Henn Kim is the latest addition to the iconic collection with which Lladró invites renowned creatives to give this unique, captivating character a distinctive personality. The large version of The Guest is a limited edition of 250 pieces and the small one in numbered edition are both made in glazed porcelain and tell us stories in which we can find ourselves reflected. Little feelings, intense emotions, bittersweet moments after which we are reborn over and over again to continue living and being who we are … Few objects are able to speak so directly to the heart.
You may also like…
Lladró

€

470,00

Use coupon LLADRO15 to have 15 % discount

LLADRO GALLOP I figurine with gift box.
Sculptor: Alfredo Lorens, Release year 2003.
Size: 17 x 24 cm

This pure white matt porcelain sculpture of a stunning stallion in a mid-gallop is a beautiful classic sculpture which is guaranteed to look wonderful within your home.
The audacious and fiery horse with its flowing main and tail seems to be running towards the limitless horizon with its strained muscles cutting through the air.
Perfect for horse lovers and someone who appreciates beautiful figurines and is afraid of nothing in his quest to overcome all obstacles.