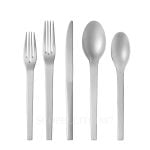 Hermes Dinner fork HTS stainless steel
$ 85,43
Hermès HTS Dinner fork in stainless steel. Gift box included.
Measures 8.3″ high
Available on backorder
approx. 2 - 8 weeks delivery time

Discover our current promotions - Ask Danka

+39 391.345.6441
The store is currently closed, Danka will answer your queries within the next 12 hours.
Hermès tout simple! A piece of cutlery for each day: the steel has been transformed on the HTS collection to create a new elegance produced by the subtle combination of deep matte and a mirror polish.
Details & Care:
Dishwasher safe, do not mix metals. Knives need to be faced blades down, Non-industrial dishwasher. No acidic (citrus) detergent. Recommended to hand wash on first use.