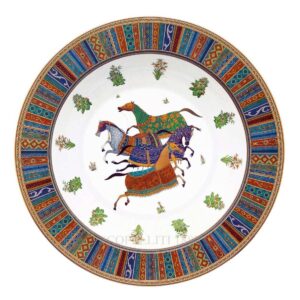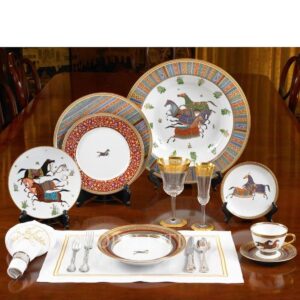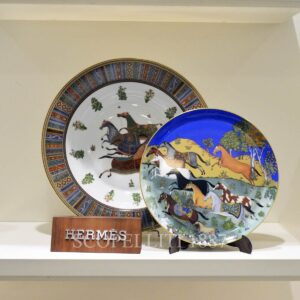 Hermes Centerpiece Cheval d'Orient
Hermes Cheval d'Orient round Centerpiece, large model, Limoges porcelain
1 pc – Ø 42 cm (16.5″D)
It is not possible to order this item at this time.
view all "same day shipping" products
Out of stock
This iconic dinnerware with its plates, bowls, tumblers, tea and coffee sets and serving plates is richly evocative of the rich textiles of the 15th century Persian Art resulting in a ceremonial pattern worth of an emperor. The joyful horses, draped in striking bright and pure colourings, gallop and fly with no wings in all their glory against the iridescent background which alternates white bare landscapes with multi coloured gilded hills.
Limonge porcelain with an allure that draws you directly into the silk road caravans resplendent in colours and equestrian motifs which acknowledge the high status that these beautiful creatures have always had in tradition worldwide.
Limoges porcelain. Dishwasher safe.
If you have any questions we would be happy to be at your service.