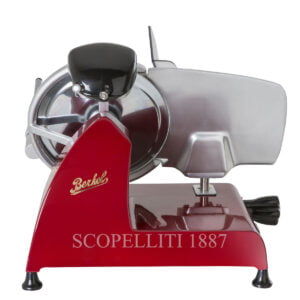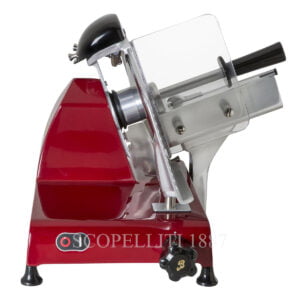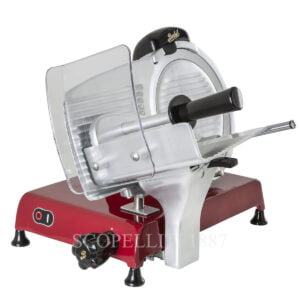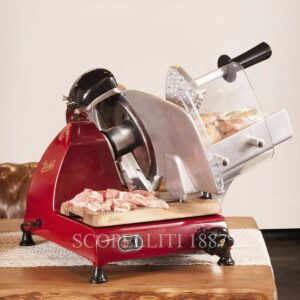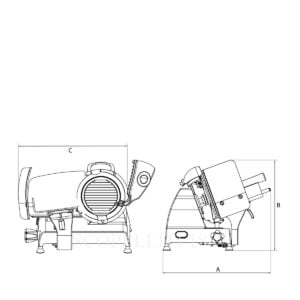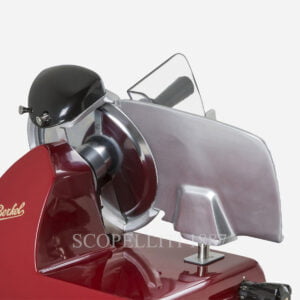 Berkel Food Slicer Red Line RL250 Red + Vacuum
€ 1.424,00
Take advantage – Only until March 14th – OFF 20%
Free shipping in EU
BERKEL FOOD SLICER RED LINE 250 + BERKEL VACUUM AND SEALER MACHINE – TAKE THEM BOTH
Available on back-order
Note that delivery before Christmas is not guaranteed. Please, check only prompt delivery items.

Discover our current promotions - Ask Danka

+39 391.345.6441
BERKEL FOOD SLICER RED LINE 250
The electric slicer with all the Berkel quality and professionalism and now innovative design. Reduced dimensions, ease of use and state of the art solutions ensure a perfect cut every day. read more...
Red Line: performance & design by Berkel. Red Line encompasses all the technology of professional Berkel meat slicers. This professional electric slicer for home use is elegant and lightweight and is made of a special aluminum alloy. The steel blade ensures a perfect cut to make thin and even slices while reducing waste. The built-in sharpener enhances blade efficiency and durability. The slice deflector, blade cover, and meat table can be removed easily to ensure quick and accurate cleaning operations. The ideal solution for customers who want an iconic design piece to be exhibited in their kitchen without sacrifice professional slicing performances.
Some details may be different from those shown in the photos.
Performance
Very thin residual product to minimize wasted material
Gauge plate opening knob with 14 millimetric adjustment positions for an accurate regulation
Inclined food plate for an effortless and more precise slicing
Chromed steel blade with professional profile: reduces waste and ensures perfect slices
0,25 CV (0,42 CV for the 300 version) professional engine for great slicing performance
Steel deflector for a better slices removal
Specific aluminum alloy casting and polymer feet for total stability during slicing
Fully IP65 sealed control panel
Integrated sharpener with a two separate movements operating system to increase sharpening precision
Cleaning & Hygiene
Casting made out of a single mold obtaining absence of gaps
Fast food grade aluminum blade cover removal system for an easy cleaning of the blade
Professional food plate with a quick detachable system for an easy machine cleaning
Wide space for fast and easy cleaning
Safety
Professional control panel, ON/OFF switches with high visibility LEDs
Food grade aluminum ring guard for best safety
Ergonomic controls in comfortable position to minimize any effort for the operator
Complete closure of the gauge plate for maximum safety during cleaning operations and CE Block to prevent its opening when the plate is out of place
Aluminum, with steel spykes, product press holder with disarmed position to prevent accidental release
Automatic shutdown of the machine in case of power failure
BERKEL VACUUM, FOOD AS FRESH AS WHEN IT WAS JUST SLICED
The latest Berkel creation: a food vacuum-packing machine for home use, with professional performance. An evolution for the brand which elevated the slicer into a cult object. Vacuum is the culmination of that attention to the genuineness and freshness of foods which has distinguished the legendary fly-wheel slicers for over a century now. The cover of Berkel Vacuum, made in stainless steel, enhances the unmistakable "red Berkel" style of the case, made in ABS and useful for scratch protection. The dimensions have been designed to obtain the highest performance with minimum size: total occupied surface on a kitchen worktop is only 44 cm in width and just over 23 cm in depth. In particularly small spaces, its limited thickness (just 11cm), ensure convenient storage, even vertical. A few details may vary from the ones visible in the photo.
VACUUM MACHINE FOR HOME USE
• Lit fence display
• Sealing bar 315 mm
• Double suction pump for greater duration over time
• Excellent flow rate equal to 18 l/min to reduce work times
• 3 sealing programmes (dry, humid and very humid foods)
• 2 speed levels for very delicate foodstuffs
• Other functions: sealing, vacuum for containers and rapid marination
• Liquid collection tray (dishwasher-safe)
• Stainless steel cover, ABS case
• the tube for creating the vacuum in the approved containers is included in the package
FEATURES OF CANISTER:
• Protective liquid suction lid (pump saver)
• All Berkel Vacuum accessories have been tested and certified for contact with foods
RECOMMENDED USES:
• Delicate washing without lid on the top dishwasher rack
• Microwave defrosting without lid
• Operating temperature: from -18°C to 100°C
FEATURES OF BAGS AND ROLLS:
• Patented, grooved multi-layer Bisphenol A-free material
• All Berkel Vacuum accessories have been tested and certified for contact with foods
RECOMMENDED USES:
•Freezer and Refrigerator.
• Microwave defrosting.
• Boiling in water at 100°C for max 1 hour.
• Suitable for vacuum cooking in a steam or water oven (max 90°C for up to 72 hours).