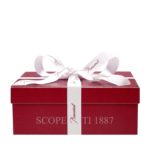 Baccarat Heritage Paraison Set Numbered Edition
€ 2.080,00
10% OFF with the coupon code BACCARAT10
Baccarat Heritage Paraison Set Numbered Edition is a perfect gift for anyone who loves Baccarat's iconic creations.
Designer: GEORGES CHEVALIER
Baccarat presents an original re-issue of the Paraison set created in 1931 by Georges Chevalier in the modernist mood of the Art Deco years. The set is composed of four glasses and a decanter.
Available on back-order
approx. 1 - 4 weeks delivery time

Discover our current promotions - Ask Danka

+39 391.345.6441
Crafted with amazing finesse, the set is a genuine masterpiece of expertise. The avant-garde design, combining the glitter of crystal with the austerity of metal, embodies the genius of Georges Chevalier, who took Baccarat into the modern era. The Maharajah of Indore, famous for his sumptuous orders placed with the leading names in luxury and his exquisitely fine taste, acquired this set in 1933 for his magnificent Art Deco-style Manik Bagh Palace. The timeless Paraison set has retained its minimalist lines to glamorously highlight all occasions now and for years to come. This box holds a whiskey bottle and 4 Paraison Héritage tumblers (2812380).