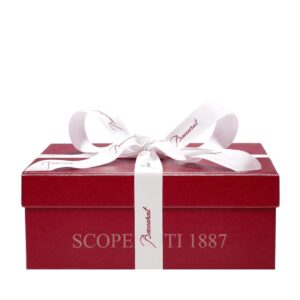 Baccarat Faunacrystopolis Tumbler Set x 4 NEW
490,00€
Use the coupon code: BaccaratGIFT
Baccarat Faunacrystopolis Tumbler Set x 4
Each tumbler has a different character engraved at the base, part human and part animal, and each incorporating the historic Baccarat stamp in playful and unexpected ways.
Set of 4 tumblers by Jaime Hayon
4 different engravings on the base of each glass
4 different numbers of cuts on the outer base
Height : 9 cm Diameter : 9,6 cm
Available on back-order
approx. 1-6 months delivery time. If you need same day shipping, please check here.

Discover our current promotions - Ask Danka

+39 391.345.6441
Discover the Faunacrystopolis tumbler Baccarat by Jaime Hayon. Adding his personal touch to the Baccarat icon, Jaime Hayon chooses the elegant Chateau Baccarat tumbler and brings it into his incredible universe.
The enchanting Jaime Hayon is once again imposing his fantastic style in the Baccarat universe with a resolutely modern collection at the border between design, art and decoration, combining Baccarat heritage with a modern approach to animal sculptures.
H 9 – Ø 9,6 cm – C 35 cl
You may also like…
Baccarat 530,00

€

Use the coupon code: BaccaratGIFT

Mysterious and rebellious, Be@rbrick puts on his black dark superhero costume. Between light and shadow, the famous art toy is the coolest gift!