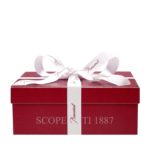 Baccarat Eye Vase Rectangular Black Large NEW
$ 2.172,89
10% OFF with the coupon code BACCARAT10
Baccarat Eye Vase h 30 cm Rectangular Black – New
In a subtle play of contrasts between light and shadow, the black Eye vase is the ideal piece to showcase the most beautiful bouquets in every interior decoration style.
Available on backorder
Same day delivery

Discover our current promotions - Ask Danka

+39 391.345.6441
The store is currently closed, Danka will answer your queries within the next 12 hours.
Making light with black. Seductive and bold, the Baccarat "Reflections" pieces bring a touch of audacity to all contemporary interiors and go perfectly with clear crystal. The Clear Eye vase highlights the elegance of black and the black accentuates the brilliance of clear crystal! The perfect pair for a perfect decor.
H 30 cm x L 18,7 x l 13,5 cm
W 6.3 kg