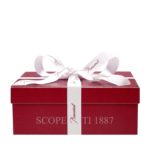 Baccarat Annual Ornament 2020 Gold
$ 151,76
10% OFF with the coupon code BACCARAT10
Baccarat Annual Ornament 2020 Gold – Christmas Gift
Christmas ornament is handcrafted of lead crystal with 20k gold leaf.
Available on backorder
approx. 1 - 3 weeks delivery time

Discover our current promotions - Ask Danka

+39 391.345.6441
The store is currently closed, Danka will answer your queries within the next 12 hours.
A small design object decorated with 20 carat gold by the gilders of the manufacture and engraved with Christmas 2020 to collect every year.
Inspired by the Sun Clock, an iconic creation of Baccarat, the Etoile ornament creates subtle reflections of light. In clear crystal, the Star lights up the most beautiful trees. The essential accessory for a magical Christmas!
H 6,6 cm – L 5,7 cm