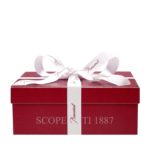 Baccarat Alizée Veil Sculpture
$ 2.132,45
Baccarat Alizée Veil Sculpture. Gift box included.
With pure lines, as if caressed by the wind, the Voile Alizée created by Claus Harttung, is an invitation to set sail.
Available on backorder
approx. 1 - 3 weeks delivery time

Discover our current promotions - Ask Danka

+39 391.345.6441
Lovers of boats and thesea will want to dive into the ocean trail with this marine coloured creation. The surface of the sail, 29 cm high, allows for bespoke engravings. A trophy for the unforgettable moments in life and a wonderful gift to dream of distant horizons.
Height 11.8 in
Width 3.1 in
Length 11.2 in
Weight 8.8 lbs